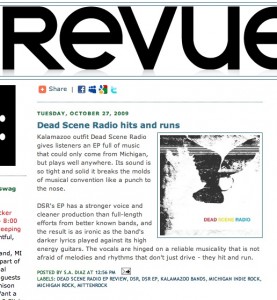 We always like it when people give us a pat on the back, and Revue West Michigan apparently felt like giving us one.
Kalamazoo outfit Dead Scene Radio gives listeners an EP full of music that could only come from Michigan, but plays well anywhere. Its sound is so tight and solid it breaks the molds of musical convention like a punch to the nose.

DSR's EP has a stronger voice and cleaner production than full-length efforts from better known bands, and the result is as ironic as the band's darker lyrics played against its high energy guitars. The vocals are hinged on a reliable musicality that is not afraid of melodies and rhythms that don't just drive – they hit and run.
Aww, thanks guys.
Want to hear what they're talking about? Check out the Attraction Records webstore and pick up a copy. Only $6!